SKYE TEXAS HILL COUNTRY RESORT
Experience nature in remarkable comfort
Experience Our Prestigious Resort in the Texas Hill Country
The quality of our resort is apparent as you enter the gates and glide comfortably through thickets of indigenous mesquite teaming with local fauna. Then the full resort reveals itself—surrounding three serene ponds amidst extensive acres of oak and mesquite groves.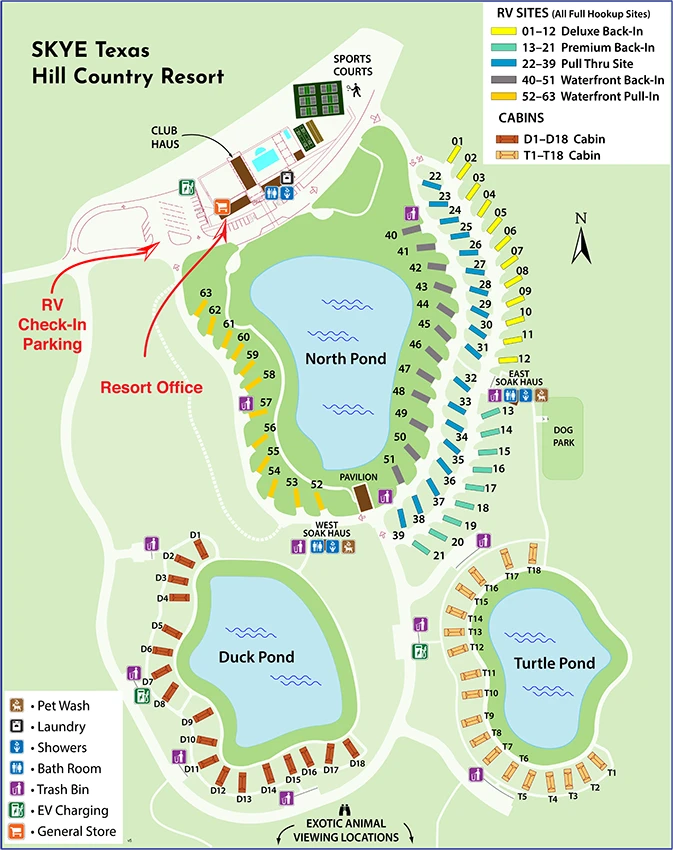 Remarkable Resort Hideaway
The resort facilities and accommodations are a Texas Hill Country hideaway, surrounding the three huge ponds, tucked into carefully curated natural surroundings. Venture into the oak groves on hiking and bike trails and find yourself in the carefully curated natural environment. Take time for a viewing of exotic animals, indulge yourself in the sparkling swimming pools, and hot spas.
Our resort is tastefully designed for your comfort and enjoyment, with top quality resort facilities and amenities for the discerning RV Traveler.
Beautiful Resort Pool & Spa Pool
Electric Cart Rentals
FREE Wi-Fi (Gigabit Speed Available)
General Store
Pickleball, Shuffle Board, and Bocce Ball courts
Great Fenced Pet Area
Air Conditioned Club Haus
Soak Haus bath houses
Laundry Facilities
SKYE Texas Hill Country Resort
An amazingly well planned and curated nature encounter with an authentic Texas Hill Country feel. Groves of oaks and mesquite punctuated with huge Black Oak trees. Alive with local flowers, birds, butterflies, deer, bunnies, and more. Our fenced 250 acre nature resort offers open grasslands, private walking and bike paths, large ponds, and viewings of exotic animals—refugees of the resort's prior history as a hunting pen. Click here for more about the animals.
Local Destinations
We're near to so many fun day trips and attractions offering fascinating day trips, should you want to leave the grounds.